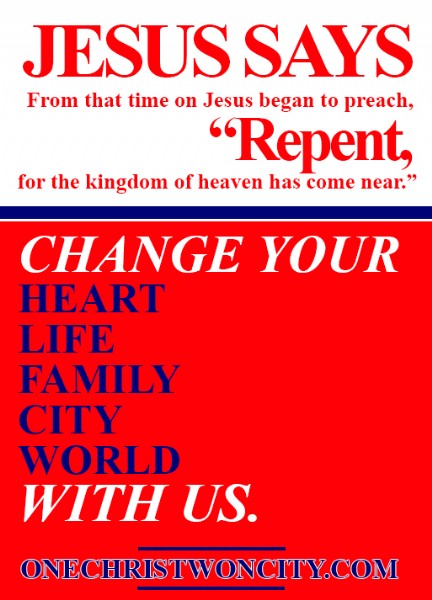 God is Waiting For You!!
2 Peter 3:9
The Lord isn't really being slow about his promise, as some people think. No, he is being patient for your sake. He does not want anyone to be destroyed, but wants everyone to repent.
Saturday September 26, 2020 is the National Day of Repentance in the United States. One Hundred and Seventy - Five Countries will be joining the United States on the global day of Repentance. In Venice, One Christ Won City is inviting all who wish to repent, or want to contemplate repentance, to join together (social distancing) at Maxine Barritt Park, from 9 am - 10;30 am. There, we will Pray, Worship and Repent. Local Pastors will be sharing God's call for you to repent.
A schedule of other activities throughout our city, on television and across the nation will be provided at our gathering.
This historic call for repentance around the globe, provides you the opportunity to change your heart, your life, your family, your city and your world. We need to stop denying our sin! By confessing our sin, we can move forward to a life that has communion with God. We need to stop minimizing our sin while talking about the sin in someone else.
We mistake our wisdom as more sufficient than God's wisdom. When we evaluate our life of sin using our standard of good or bad, then we diminish the word and spirit of God. God blesses those with a pure heart. A heart is made more pure through repentance.
Two Thousand years ago, Jesus Christ began his ministry on earth with this declaration.
Matthew 4:17
From then on Jesus began to preach, "Repent of your sins and turn to God, for the Kingdom of Heaven is near."
Will you take up this call of Jesus Christ on Saturday 9/26/2020, the National Day of Repentance?
In his service
Chaplain Jim Foubister
President
One Christ Won City